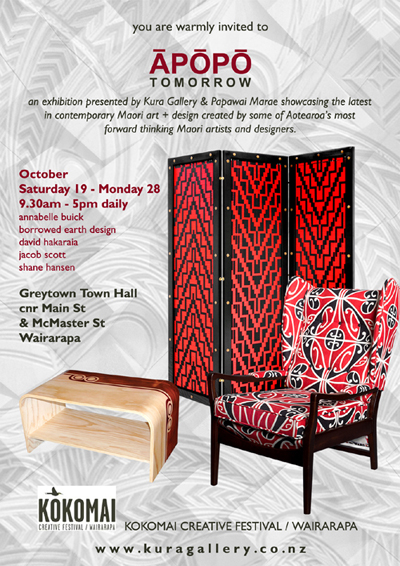 APOPO / T o m o r r o w
APOPO meaning tomorrow or sometime in the future is an exhibition presented by Kura Gallery and Papawai Marae, showcasing the latest in contemporary Maori art + design created by some of Aotearoa's most forward thinking Maori artists and designers.
Maori art + design stands alone in it's uniqueness and adaptive nature, telling our stories through visual language. Maori artists are embracing the ever-changing resources and technologies available and successfully adopting them as a means of cultural expression through design.
APOPO offers viewers a glimpse into the exciting potential for the future growth of Maori design applications within the broader context of the New Zealand and global design landscape.
Artists include David Hakaraia, Jacob Scott, Shane Hansen, Borrowed Earth Design and Annabelle Buick. Also included are works by contributing artists from Papawai Marae – Ian Wayne Grant, Holly Jackson & James Davidson.
Artists and designers include:
David Hakaraia – dedicated to creating innovative design David recently exhibited at the 25th annual International Contemporary Furniture Fair in New York.
Jacob Scott – an award winning designer and highly regarded architectural designer. Scott is a pioneer in contemporary Maori art and Maori arts education.
Shane Hansen – Commissioned this year by Team McMillan BMW to create the Native Aotearoa Collection for the BMW Art Cars – A world-renowned collection that spans 35 years. The Native Aotearoa Collection is currently touring NZ.
Borrowed Earth Design – reclaimed and recycled collection of furniture and homewares designed with sustainability in mind. Their kowhaiwhai-designed fabric is exclusive to Borrowed Earth Design and is made of recycled plastic, the print colours are water based vegetable pigment inks. Their kowhaiwhai-designed fabric is the only fabric of it's kind in the world.
Annabelle Buick – a recent finalist in the New Zealand Contemporary Art Awards with her 3-dimensional wood block, weave pattern wall sculptures.