Artist Profile: Aimee McLeod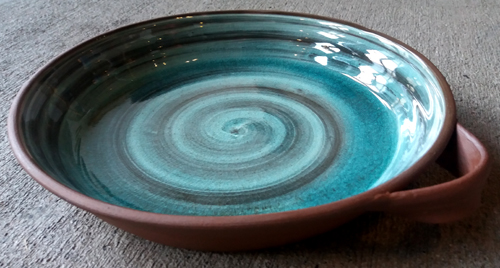 While living in Japan in the '70s, I fell in love with pottery and determined to become a potter one day.
Years later, I was in the first group doing the two year full-time Craft Design course at Whitirea Polytechnic in Porirua in '87/'88. Although ceramics, as such, was not offered, this course gave me the opportunity to work for limited periods with some of New Zealand's top potters. It also widened my view of pottery as "art" instead of simply functional.
Since then, I have made pottery a more or less full-time occupation.
I enjoy producing functional domestic ware, but for long time, I derived the greatest pleasure from my "ripped edge" series, I could reject "perfection" with these. I use Tenmoku and Chun type glazes on these slab mould/hand formed dishes which to me evoke our geographically young and volcanic country or sometimes an underwater landscape.
I am currently in the final year of a 4 year part time "distance" Diploma of Art (ceramics) through the Australian National University in Canberra and am working towards less functional, more sculptural pieces and lover temperature glazes.