EXHIBITION PREVIEW – Nga whakapapa o Matariki by Juliet Omana
The Nga Whakapapa o Mataariki series is about the celebration of Mataariki – the Maori New Year according to the Maori lunar calendar.
Francis Bacon said the role of the artist is always to deepen the mystery. I have attempted to awaken what lies beneath our reality and conception.
I try to capture what lies beyond the realm of metaphysics, abstract concepts of being, identity, time and space. If we sustain that wonder and explore it, sometimes it's not what is in the artwork but what's left out which makes it stimulating.  Like others, I believe that communication is the most important part of creating artwork. Art must communicate.
I derive my subject from the heart, drawing on my imagination and feelings.
Title: Ko Hinehakirirangi – East Coast Ancestor
Media: acrylic & water based oils on canvas
Dimensions: 1040 x 785mm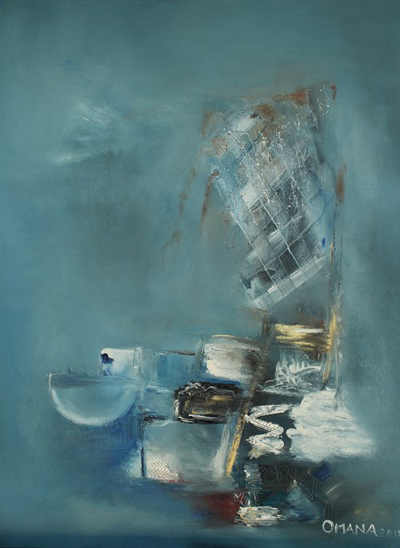 Title: Tanu kai tanu kai – Time to plant
Media: acrylic & water based oils on canvas
Dimensions: 785 x 1040mm
Title: Te Korowai o Matariki – The Cloak of Matariki
Media: acrylic & water based oils on canvas
Dimensions: 785 x 1040mm
Title: Te Korowai o Matariki – The Cloak of Matariki
Media: acrylic & water based oils on canvas
Dimensions: 785 x 1040mm
Title: Ko Tupu-a-nuku – Daughter of Matariki
Media: acrylic & water based oils on canvas
Dimensions: 1040 x 785mm
Title: Ko Tupu-a-rangi – Daughter of Matariki
Media: acrylic & water based oils on canvas
Dimensions: 1040 x 785mm
Title: Ko Ururangi – Daughter of Matariki
Media: acrylic & water based oils on canvas
Dimensions: 785 x 1040mm
Title: Ko Waipuna-a-rangi – Daughter of Matariki
Media: acrylic & water based oils on canvas
Dimensions: 785 x 1040mm
Title: Ko Waita – Daughter of Matariki
Media: acrylic & water based oils on canvas
Dimensions: 785 x 1040mm
Title: Ko Waiti – Daughter of Matariki
Media: acrylic & water based oils on canvas
Dimensions: 1040 x 785mm