DARRYL FROST – Featured Artist – THIS WEEK'S SPECIAL OFFER!
DARRYL FROST – Ceramic Artist – SPECIAL OFFER!
This week we are offering 20 – 30% off Darryl's ceramic works!
Wonderfully unique works by a unique artist.
After finishing a building apprenticeship in the 1980s, Darryl developed his creative energies by completing a certificate in craft design at Nelson Institute of Technology. He followed this certificate with a diploma in craft and design majoring in ceramics in 1989. Determined to support himself as a full time artist, Darryl began teaching others whilst still developing his own work. As his work became noticed, he has held several exhibitions at galleries throughout the country including
Darryl currently works from home in Mapua, near Nelson, where he fires his work in a Kiln built on Anagama principles.
Click here to see more of Darryl's work: http://www.kuragallery.co.nz/category/artists/darryl-frost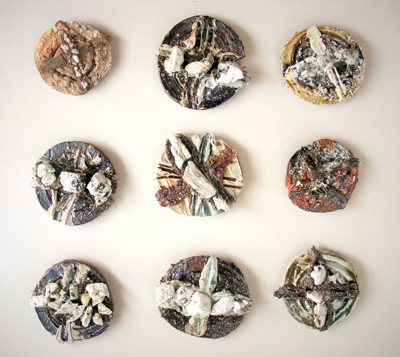 Wall Disc Installation
9 piece ceramic work
$3150 –  SPECIAL OFFER ON NOW – $2150.00