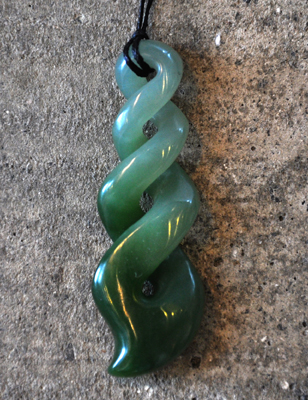 Waiho I te toipoto, kaua I te toira – Let us keep close together not wide apart
The crisscross shape of the twist represents the connected paths of life. One theory relates this design to the woven pattern of the kete (woven basket). This continued pattern is seen to replicate in a figure eight pattern. The double crossed outline of the figure eight is said to represent the joining together of two people, two lives and two cultures. The single figure eight design represents the path of life; it is a symbol of eternity.
Go back to the Gift Shop or the Jewellery or the Pounamu - Greenstone collection.
Click here for purchase enquiries