Koru – Unfurling Fern Frond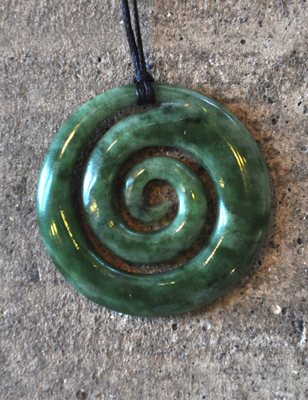 Ka hinga atu he tetekura, ka ara mai he tetekura – as one fern frond (person) dies, one is born to take it's place
This proverb explains the primary meaning of the koru which is birth, re-growth and regeneration. The Koru represents growth, life, peace and tranquillity.  It symbolises, sustainability. Taonga Tuku Iho – the passing of life, information and resources from one generation to the next.
Its spiral shape is based on the unfurling fern frond. A young fern enjoys the protection and support from a stronger, mature fern. This refers to the relationship between a parent and child or a husband and wife.
Over the past 200 years, traditional Maori designs have suffered the process of colonisation. One particular design, which has survived the test of time, is the Koru. In the past 60-100 years the Koru has undergone various changes. From those changes the koru grew an eye, a head, neck, body and tail. It was given by virtue of symbolism, human characteristics that intern gave artists a license to design and use koru. Therefore the koru is said to also represent ancestral figures in many cases.
Koru is the single most used element in Taa Moko – traditional tattooing. Even to the extent where a simple spiral, can be double or triple grouped lines that spiral inward into a single koru. This grouping of spiralling lines, albeit of a circular nature, merely creates a spiral illusion, but is in fact, in the centre, a koru. For double-headed Koru, known as Mango Pare, most Maori artists will tell you that this design pertains to the warrior. This double-headed analogy takes its form from the Hammerhead Shark. A symbol of strength and ferocity that best fits the warrior and the attitude required to be successful in that occupation.