Robin Slow 'Nga Wahangu – Silent Songs' Exhibition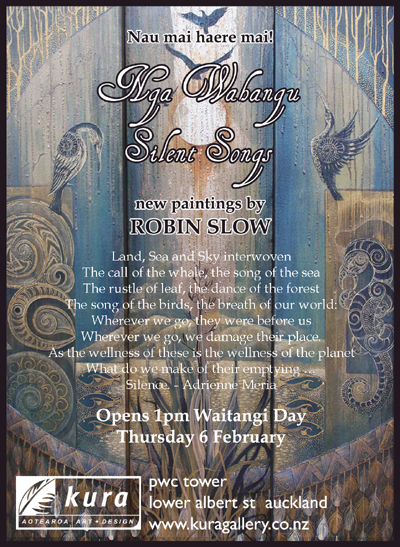 Parapara is my mountain, the place to collect the kokowai for the paint, Mohua (Golden Bay) is the area I live and work with my whanau, Waitapu is the river that flows from Te Waikoropupu the sacred waters of Huriawa into the sea of Te Taitapu and Onetahua is our Marae. We are surrounded by the features of Papatuanuku and Ranginui carved, painted, and woven by their children. To get to the rohi it is either by sea or a single road in that winds over the Pikikurunga (Takaka Hill). It is an area where people have gathered resources over many years from flax, coal, gold, iron ore and paint. It is the place where the first Pakeha met with the Tangata Whenua. It is a place where the light of Te Ao Marama shines brightly and as with all light it casts its shadows as well.
Te Ao Marama, this world, the space between. It is the space between, where the interactions take place, between life and death, tapu and noa, beginnings and endings. It is the place where we have to navigate and move. It is also the space that the manu and tohora make connections, from earth and sky, land and sea. They spiral, moving and connecting from one place to another.
Te Ao Marama, is also the name of our wharenui, a space that contains our histories of people and places. It has the patterning of the tukutuku and kowhaiwhai, contrasting with the pou in its vertical structure being manipulated by the contained carved spirals within. This brings a composition of harmony to the whole whare. It is coloured from the earth clays that add to this dimension. The colours of red, black and white are there, but so are the new blues, greens and gold that reflect back different stories and histories.
Red, black and white, the head, heart and hand of painting, joined by others soaking in, dripping and sometimes reflecting back at us or moving in different lighting that surrounds them, gold and silver leaf that started by being part of the history of 'Golden Bay' in its use and ended up by reflecting back newer and different conventions that add to the mix. Conventions not only Maori learnt from the different painted and carved marae but conventions from Pakeha who have worked in Mohua (Golden Bay) using the place as a point of reference, all within a spiral that moves forward in Te Ao Marama – Robin Slow