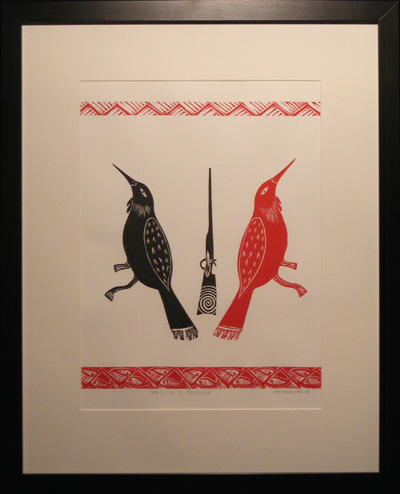 Nga tui me te raiwhera
Woodblock print
700 x 565mm
NZD $950.00 – framed
Nga tui me te raiwhera – the tui and the rifle  
The birds are tui. They are turned away from each other a rifle stands upright between them. The rifle represents separation in reference to land, autonomy and culture. The rifle or musket was brought to New Zealand by early European settlers and represents the impact of the rifle itself and what the ultimate consequences were upon the indigenous people in terms of land loss and subsequent loss of self determination, language and culture. The composition represents a coat of arms and the band that runs along the bottom is called ngutu kaka and is a traditional maori design representing a repeating birds beak, this grounds the image whilst the banner across the top refers to the pacific region in which we stand.
The two tui represent two cultures that have been divided by the rifle, adversity, however the tui are traditionally considered to be great orators and there is hope and potential as they both look upward and toward the future. Below them is a traditional  kowhaiwhai pattern that refers to the beak of the bird while above is a typically pacific island design which represents where we, as a multi cultural society, sit in the world. 
Go back to the $250-$1000 or the Maori Design or the Prints & Photography or the Sam Farquhar or the Wall Art collection.
Click here for purchase enquiries