new works by ceramic sculptor
Baye Riddell
Kura Wellington 10th to 28th October
Kura Auckland 6th to  to 5th December
Each life journey is unique – an artwork to be won and shaped from the experiences that befall us or that we choose to embrace and enter into.
Ethnicity, gender and circumstance befall us – we choose our beliefs.  We fashion a world view from perceived truths and defining moments.  Hopefully our art is an expression of who we are and what we believe in – how we see the world.
For myself, this is important and I draw from the various layers – cultural, spiritual, social, political, psychological, physical – that make up who I am at the present time.  The possibilities for exploration within each layer is extensive. The possible combinations and permutations between layers is, to all intents and purposes, limitless.
The real challenge is not to compromise – to explore and express without regard for market, social or critical approval.
It's not easy – sometimes I succeed – sometimes I fail. That's the journey – that's life – that's art.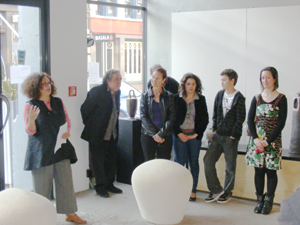 Roma Potiki whaikorero – welcomes Baye Riddell and discusses his work

Kaumatua Tom Ward concludes the powhiri with waiata on his koauau while Baye listens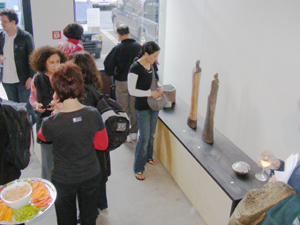 Nga manuhuri enjoy the preview, Tohu wine and kai.