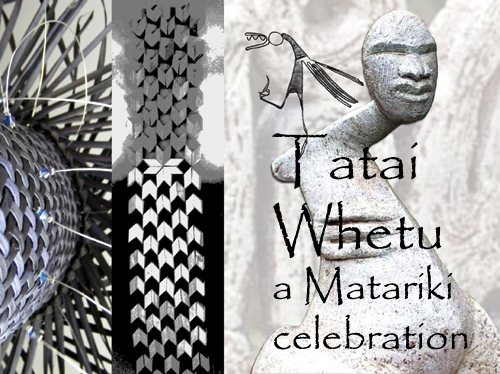 Kura Wellington June 11 – July 11 2010
Multimedia artist Annabelle Buick, clay artist Paerau Corneal and weaver Jess Paraone are exhibiting new works as part of the Matariki Festival Celebrations.  Outstanding works by three outstanding contemporary Maori women artists.
Matariki is our Aotearoa New Year, a time to celebrate our unique place in the world. Celebrations are signaled by the predawn rise of the Matariki constellation on the North East horizon around the end of May and the New Year celebrations begin on the sighting of the first New Moon. It is a time to respect the whenua (land) on which we live. A time to learn about our history. It signals a time of growth and change, a time to prepare and a time of action. A celebration of culture, language and diversity.