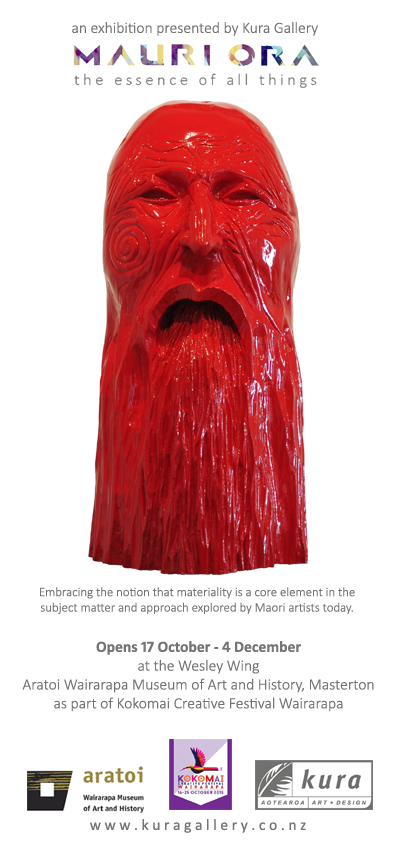 Mauri Ora celebrates the spiritual essence that gives life to all things.
The exhibition embraces the notion that materiality is a core element in the subject matter and approach explored by Maori artists today.
It will showcase the diversity of Maori cultural expression through a range of mediums, materials and techniques used in the pursuit of new creative horizons within an ever-changing world.
ARTISTS
Al Brown – Ngati Ruaka
Albert McCarthy – Ngati Tuwharetoa, Te Arawa
Alex Sands – Ngati Kahungunu
Anna Gedson – Ngati Rua, Whakatohea
Annabelle Buick – Ngati Pukenga
Baye Riddell – Ngati Porou
Conor Jeory – Ngati Porou
Dallas Crombie – Rongomatane, Ngati Kahungunu
Erin Rauna – Ngati Kahungunu
Gabrielle Belz – Ngapuhi, Te Atiawa
Jack Brooking – Ngati Porou
Jacob Scott – Ngati Kahugnunu, Te Arawa
Jimmy Kouratoras – Ngati Tiipa, Tainui
John Penman – Ngapuhi
John Walsh – Te Aitanga a Hauiti
Keri-Mei Zagrobelna – Te Atiawa, Te Whanau-a-Apanui
Mike Smith – Ngati Maniapoto
Natasha Keating – Ngati Tuwharetoa
Phil Belcher – Ngati Mamoe affiliated
Robin Slow – Ko Onetahua te Marae
Ross Gregory – Te Rarawa, Kai Tahu
Ross Hemera – Ngai Tahu
Scott Parker – Ngati Tama
Shona Tawhiao – Ngai Te Rangi
Stevei Houkamau – Ngati Porou, Rangitane
Toi-Te-Rangiuaia (Paora) – Ngati Porou
Vicky Thomas – Ngati Kahu, Ngapuhi
Warren McGrath – Ngati Ruru, Raukawa ki Wharepuuhunga